Between sandcastles, swimming and idleness
Second largest beach in Perros-Guirec, less known than its neighbour Trestraou, Trestrignel is the perfect place to spend a while relaxing alone or having family fun. Here, no shops or restaurants, the place has kept a maximum of authenticity. Its colorful cabins and the magnificent villas that border it deserve that we stop for a moment staring at the Channel and the islands composing the landscape.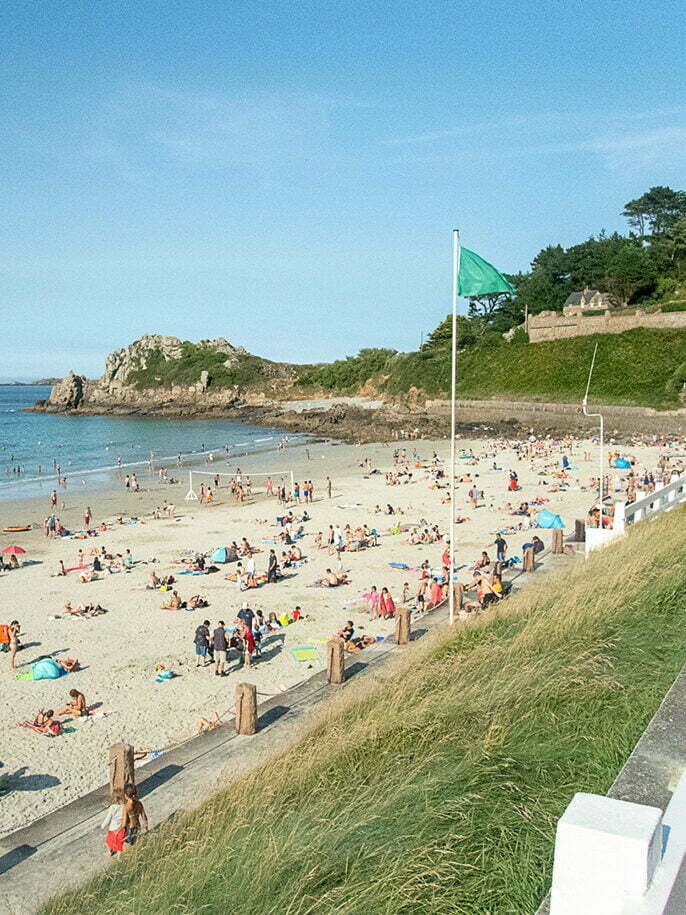 A natural cove where to spend an unforgettable moment
Whether you are fond of sunbathing all day, building sandcastles after having a nap, quickly bathing before leaving or reading in front of the sunset, Trestrignel will seduce you. Here, no traffic along the waterfront, cars must get around the green car park, which reduces noise. You will only hear children playing or gulls. No expenses either. Parking is free, no tempting shops, just a food truck in summer, ideal for those who forgot their snack.
If you feel like taking a stroll, the Castle point (castle is the name of the rock, not an actual castle) at the end of the beach is perfect for climbing rocks and get high. From there, the view embraces the whole beach, the Seven Islands and Tome island, in a charming landscape.
Less crowded but well equipped!
At high tide, you can jump in the water from the diving board. Remember to check the limit on the amenity or the tides times before jumping! When you are well covered in salt and sand, do not hesitate to use the showers near the cabins to rinse off before leaving for new adventures on the pink granite coast!
Information
Address: Trestrignel beach, Rue de Trestrignel, 22700 Perros-Guirec, Brittany
Distance from the house: 4,3 km
Dogs: forbidden in high season (authorized from November 15th to March 15th)